Freiburg – Your Pathway to Europe
Traveling in Germany and Europe will never be easier than during your Academic Year in Freiburg. You're already in Europe! What better time to explore the many cultures of the continent?
Centrally Located
Freiburg is centrally located in Europe and ideal for daytrips to multiple countries. From your home base in Freiburg, you can enjoy easy connections to all Europe has to offer – from the cultural powerhouses of Berlin, London and Paris to quiet seaside and mountain villages in Italy or Spain.
Daytrips
Freiburg itself is tucked in between France to the west and Switzerland to the south – so close in fact, that every year some adventurous AYFers bike to these other countries! (Freiburg is only about 90 biking minutes away from the Rhine River, which serves as the German-French border.)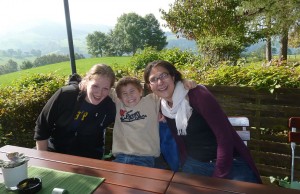 Common daytrips from Freiburg include hiking, camping or even sledding in Germany's Black Forest, shopping in Strasbourg, France, or taking in Swiss culture at some of Basel's legendary museums. The "Dreiländereck" (tri-national region) to which Freiburg belongs, offers you an amazing chance to explore diverse cultures and the area's natural beauty – all while enjoying the city you will call home for your Academic Year in Freiburg.
Exploring Europe
Freiburg's superb location in Europe and the continent's great highway and public transit system allow you to explore cities in and out of Germany with relative ease. To show this, we put together a travel table of how long it generally takes to get to some popular European destinations by (student-friendly and generally inexpensive) bus or high-speed rail (like the Deutsche Bahn's ICE).
| | | | |
| --- | --- | --- | --- |
| Destination | Distance (km) | By Bus | By High-Speed Rail |
| Munich | 330 km | 6 h | 4 h 30 min |
| Milan | 400 km | 7 h | 6 h |
| Paris | 575 km | 7 h 30 min | 5 h |
| Amsterdam | 700 km | 12 h | 6 h |
| Prague | 700 km | 13 h | 10 h |
| Berlin | 800 km | 13 h | 6 h 30 min |
| Rome | 1000 km | 16 h | 16 h |
Furthermore, since there are good bus and train connections to the major international airports of Frankfurt International (FRA) and EuroAirport Basel Mulhouse Freiburg (EAP; home to easyJet and Ryanair) air travel in Europe from Freiburg is extremely easy!
It can be hard to estimate exactly how long traveling by plane can take. But in general, if you leave Freiburg by train or bus in the morning, take off from Frankfurt International or EuroAirport in the afternoon and fly to far-off England or Spain, you can be wandering around the streets of London, Madrid, or Paris by dinnertime!
Things to Remember While Traveling Abroad
Some important things to remember while traveling throughout Europe:
Have fun and take care of yourself and those you're traveling with. Representing AYF and your home country is a great chance for intercultural exchange!
Most countries in the EU use the Euro and many young people speak English very well, making traveling easier than ever!
Don't forget your passport. Having proper ID on you when traveling (even by bus or train) outside of Freiburg is an absolute must!
Make sure you have the proper visa when traveling outside the Schengen Area.
And always inform AYF staff about your travel plans so that we may better assist you in case of an emergency. You'll find  a handy Travel Information Form here or at the Program Center.