Reunion 2023 Registration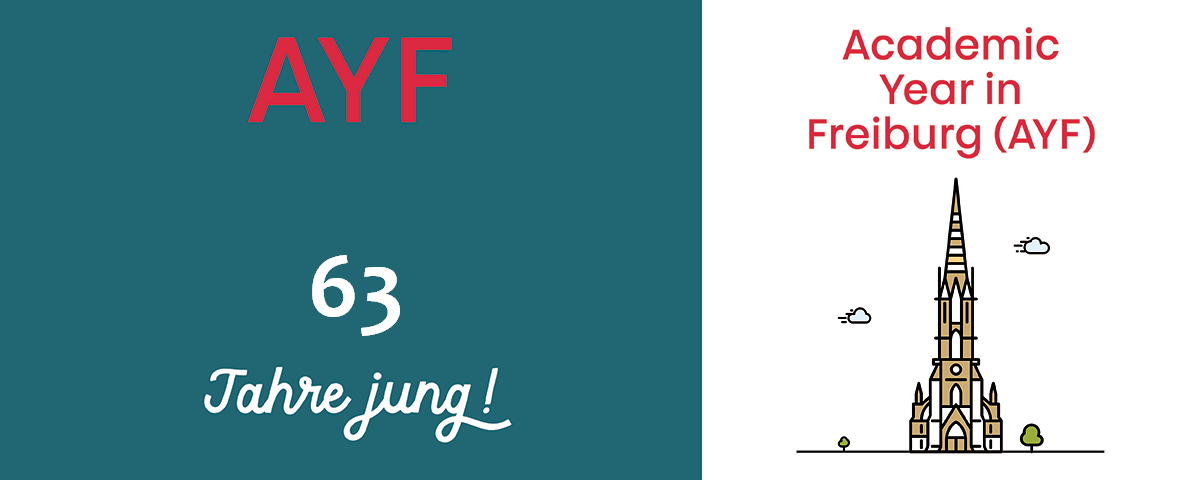 The Academic Year in Freiburg and the AYF Alumni & Friends e.V. (the German chapter of the AYF alumni club) are hosting an "AYF @ 60+3" Anniversary Celebration and Reunion from July 6-10, 2023.
The Registration Form for the 2023 Reunion follows at the end of this page

. 
A detailed program description is available on a separate page.
Please register all persons in your party for each event you wish to attend in the registration form that follows below as soon as possible. All alumni should register themselves (plus partner/s, children, close friend/s joining you). Please do not register whole groups of alumni using this form; doing so would likely lead to duplication and unnecessary confusion on our end. This page will be updated and items removed once events are fully booked.

Registration and Fee Information 2023
Since capacities are limited in some venues, since reservations, bookings, and locations may need to be adjusted based on alumni interest, a detailed pre-registration through this Registration Page is required using the form below. We ask that you please register as soon as possible but no later than June 15, 2023. 
As part of registration for this celebratory reunion weekend, we are kindly requesting a contribution of 30 € for each adult in your party to AYF Alumni & Friends, the German Chapter of the AYF Alumni Club.
These funds help defray part of the cost associated with the festivities. Any surplus is a fundraiser earmarked for scholarships and travel grants for current and future AYF students. By celebrating with us, you can ensure that their year with AYF will be as memorable as yours!

AYF Logo T-Shirt Fundraiser
AYF Alumni & Friends, the German chapter of the alumni club, is offering AYF logo T-Shirts for 25 € a piece. All proceeds go toward the alumni club scholarship fund.
Available ash-grey AYF logo T-Shirts in the following sizes: S, M, L, XL, and XXL.
Pre-order with your reunion 2023 registration and your T-Shirt(s) will be waiting for you at the Welcome Reception on Thursday or the AYF Open House on Friday.
For program alumni who are sadly not able to attend but don't want to wait for the next big Anniversary Celebration some years down the road, it is possible to make their donation to the AYF Alumni & Friends e.V. and request shipping of AYF T-Shirts for an additional 5 € through the alumni club's German website.
What to do next and where to go from here …
Review Reunion PROGRAM once more on this page.
Register for Reunion EVENTS using the FORM BELOW.
Reunion Registration Form  (last updated June 6)
Please provide your contact information and make your selections below. We will be in touch with a separate confirmation email after reviewing your selections to ensure availability.