Alumni & Friends
Welcome to the Alumni & Friends section of our home page.
The Freiburg experience does not end once the program is over. Many deep and lasting friendships are formed during the year of study in Freiburg. The program is delighted to stay connected with you and support your connection with each other.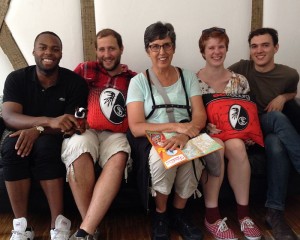 Alumni from the Junior Year and Academic Year in Freiburg will find here relevant news about the program and the people associated with it, updates about Reunions and other events, and information on how to get personally involved with our Alumni Club!
We are hoping to create a welcoming platform for all our alumni not only to remember their wonderful experiences in Freiburg – but also to help create exciting new ones!
If you have suggestions or contributions for our site, if you would like to nominate an alumna or alumnus to be featured in an "Alumni Spotlight" or have questions about the program, please don't hesitate to get in touch with us.  We are looking forward to hearing from you!