Prospective Students
Dear Future AYFers!
Congratulations! It looks like you are serious about taking the plunge and spending an Academic Year in Freiburg.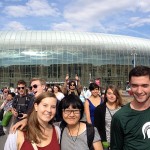 A year abroad with the AYF program will benefit you in terms of personal, academic and professional development, and we hope you will use this great opportunity to set yourself apart and jumpstart your future by getting your foot in the door with language and cultural experience only a select few students have.
We hope that you have explored our website and talked with family, friends and mentors about this amazing opportunity to spend a year abroad improving your German proficiency, getting to know a new culture and taking classes at a truly excellent university.
If you are ready to challenge yourself personally, academically and professionally, we look forward to working with you during your Academic Year in Freiburg!
Still Have Questions?
If you still have questions regarding your upcoming Academic Year in Freiburg, we recommend you reach out to former and current AYF students on your campus or online to get an inside look into the AYF program.
To get in touch with current AYF students or alumni:
or—if you are from the UW-Madison, MSU, UM, or UI—visit the Peer Advisors in person at your study abroad office
ask former AYFers in your German classes on campus (hint: they're usually the fluent speakers ready to discuss all things German!)
Apply Now!
If you're ready to embark on your Academic Year in Freiburg, here is the application information you need to get started.
We're looking forward to seeing you in Freiburg!