Why Study Abroad with AYF?
AYF offers a very affordable year-long study abroad program with dedicated on-site staff and a long history of success and excellence at Albert-Ludwigs-Universität in Freiburg, Germany.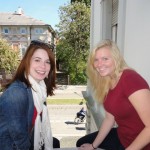 Taking part in AYF offers you the opportunity to improve your fluency in German, dive into Freiburg's vibrant culture and take a combination of program classes and courses at a world-renowned university.
Your year abroad offers you the chance to get out of your comfort zone and travel the world – Freiburg is centrally located in Europe and is less than an hour away from both France and Switzerland and only a day trip away from other European capital cities!
Affordability
AYF is very affordable and can be comparable to the cost of tuition and living expenses at an American university. Additionally, AYF offers the peace of mind that helpful German and American university staff are always at your side to assist you in your university studies, integrating into life in Germany and keeping you on track to graduate on time.
Courses for U.S. Credit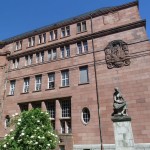 As a program that was established soon after the Second World War, AYF has long-standing, strong connections with the Albert-Ludwigs-Universität, other colleges in Freiburg and its American partner schools. All approved courses taken in Freiburg with AYF will transfer back as American partner university credits and can help you stay on track to graduate in four years.
Most AYF students study German as either a major or minor and complete many of their requirements in Germany – giving them a cultural and linguistic leg up on fellow American students while still graduating on time!
Internship Program
During the summer semester, you have the opportunity to take part in a credit-bearing internship and intercultural business communication seminar – preparing you for your next steps in life after graduation. AYF has a broad range of partners representing government, education, NGOs and businesses in Freiburg, all of whom are eager to work with international students.
Field Trips and Other Activities
Throughout your year abroad, AYF and the International Club will offer cultural excursions to locations in and around Freiburg as well as daytrips to other countries. These outings will allow you to enjoy the natural scenery of the Black Forest and learn about the cultural and historical significance of major European cities.
Over the course of the year, AYF also organizes group events including a Thanksgiving dinner and other activities in Freiburg. Additionally, the Freiburg-Madison-Gesellschaft (FMG) sponsors events for AYF students.