Selling Your Experience
After having completed your Academic Year in Freiburg, it is important to reflect on how your experience may have an impact on your future. Many AYF alumni have successfully leveraged their experience in Freiburg to jumpstart their careers or advanced studies at home or abroad.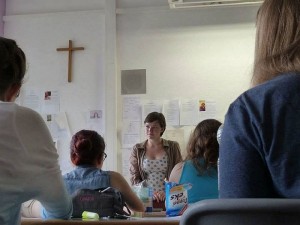 The first important aspect of "selling your experience" is to identify the more or less tactile opportunities for growth you had in Freiburg that will help you stand out on your resume or in an interview.
Adding a line to your CV stating that you took part in a year-long study abroad program can help to show your academic dedication and highlight what makes you different from other applicants.
Expanding on this experience, it is also relevant to include special opportunities that you took part in which would not be available to students at a U.S. university. Experiences like these include:
Working or tutoring in Germany
Interning or volunteering with a German organization
Taking graduate-level or research courses
Completing a scholarship project
Holding a leadership role in an international club
Improving language skills (it's best to show this with recognized language test scores)
These "bullet points" will help others understand exactly what you did and can help you get your foot in the door. Even if a potential employer has never been overseas, this list might help trigger some positive impressions of your year abroad (and help you land the interview!).
"As a student of finance, return on investment has always been important to me; not just from a financial standpoint, but also in regards to personal development. Nothing can compare to the full immersion experience of studying abroad in Freiburg and the skill set I developed during that year. They contributed substantially to my competitive advantage in obtaining two internships in Frankfurt, the first in investment banking and the second in asset management with Deutsche Bank."  – Miles Edwards
The next step of selling your experience is to focus on the soft skills you developed abroad and how best to explain complex topics like intercultural competency. These topics can often not be summarized in a few short words like those above and oftentimes take serious personal and cultural reflection to express effectively.
Finally, instead of trying to match your experience to what others did, to identify areas of personal, professional and cultural growth it might be effective to ask yourself and those who know you best (e.g. close friends, family, mentors) what has changed about you. Questions to start these conversations could include:
Has my time abroad affect how I see the world?
Can I communicate more effectively with people from intercultural backgrounds than I could before I spent a significant amount of time overseas?
Am I more dedicated to my studies or professional pursuits now that I understand them from an international perspective?
Has my time abroad helped me to identify career goals or specializations which I would not have pursued otherwise?
To express these answers, it is most effective to have seriously thought about how your time in Freiburg has had an impact on your current interests or pursuits. After you have identified a few concepts which are relevant for your job search (e.g. intercultural competence), you would do well to use these phrases during interviews and also tie in a short (but not rambling or off-topic) story about how you were able to effectively use and improve these skills abroad.
Remember, your time in Freiburg has definitely had an impact on you, but in selling your experience, some personally important details may be lost (like how great of a city Freiburg is) – don't let this affect you negatively. On your CV and during an interview, it is important to show your personality, but more importantly show that you had an impactful year abroad and how your experience will bring a valuable perspective to your future employer.