AYF Program Suspended for Full Year 2020-21
Dear JYF and AYF Alumni,
It is with great sadness, that I share with you an update today about the continuing suspension of the AYF program. In light of recent COVID-19 developments and necessary planning deadlines, it has become inevitable also to cancel the second term of the current academic year, summer semester 2021.
AYF is now effectively on a full-year suspension with staff on partial furlough and only minimal coverage of the office. This is not exactly happy news, to be sure. But we are doing everything we can to preserve budget and get AYF through this difficult time. And – a huge positive at this juncture – the commitment from our four partner universities is strong. Together, we are bullish on the future of AYF!
As we are planning to reopen the program next September, recruiting for AYF 2021-22 has already begun. And student interest is keen. There are many imponderables, of course, but our program suspension might well be followed by an above-average year in terms of participant numbers. Bitte Daumen drücken!
AYF Anniversary and the BIG Reunion
How will this affect our anniversary celebration and reunion? And what is the city planning to do?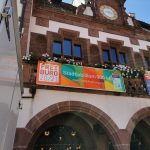 The City of Freiburg has rescheduled their central festival weekend, rebranded as "900+1", for July 9-13, 2021. City hall staff tell us they are continuing to plan events for it to the extent that planning is possible right now, but with an understanding that everything might yet be called off again.
We had tentatively also postponed our big AYF reunion to July 2021. But the full-year suspension unfortunately changes key fundamentals. Without any students in town to help run the event and given the continuing uncertainties regarding infections, we cannot go ahead with a big multi-group reunion next July. Our really big bash will need to be postponed again. We are hoping that three's a charm and we can finally celebrate with you all in 2022. Updates will be forthcoming in due time.
Perhaps it just might be possible in 2021 to have smaller, scaled back reunions for single cohorts without student participation. But this idea, too, is beset with uncertainty and its viability depends on whether pandemic developments and then-prevailing health advisories and regulations will permit it. For now, it is simply too early to call it on smaller get-togethers.
We are deeply grateful for your continued support and look forward to the day when we can get together again to celebrate your time in Freiburg, your friendships and memories, and the program that brought you together.
Today, there were sad things to report, much uncertainty to weigh, and few bright spots to highlight. In this spirit, I want to close this message by sharing an alumni profile to remind us of what makes AYF special – the deep immersion and engagement with German culture that helps shape lives and build friendships. Sometimes, it encourages folks to return to make their life in Freiburg as alumna Sarah Mamer reports.
If you have a story to share of how the time in the program has impacted you, please get in touch. We love hearing from you!
With cordial best wishes for good health,
Ulrich (Ulli) Struve, Program Director